Awaken is a bootstrapped project; we record meditations out of our apartments in Brooklyn, New York. We're writers, activists, artists, technologists, and meditation teachers with a vision of meditation that brings mindfulness into every crevice of our lives, allowing us to explore, understand, and change our lives and world through wisdom and compassion. Our approach is Buddhish, and we ground our meditations in traditional teachings without forgetting that all the teachings around meditations are, at their core, invitations to explore and come to your own truth.
Born in India, raised in California, living in Brooklyn, Ravi is desperately trying not to be a cliche, and failing. In his simultaneously best and worst hipster impression, he's combining his expertise (technology and entrepreneurship) with his deepest passion (meditation and Buddhism) to try to create something that "helps people" or "makes the world a better place." When not being self-referential in an app bio, you can find him teaching meditation, running or biking around Brooklyn, or pursuing one of too many hobbies (current favorite: learning how to spin fire poi). He's been practicing in the Zen tradition for a decade and is a formal training student in the Mountains and Rivers Order Zen lineage.
Rev. angel Kyodo williams, Sensei
Called "the most intriguing (and most vocal) African-American Buddhist" by Library Journal, Rev. angel Kyodo williams, Sensei is an author, activist, master trainer, founder of the Center for Transformative Change, and spiritual leader of newDharma Community and newDharma Collective. Ordained as a Zen priest, Rev. angel is one of only three black women Zen "Senseis" or teachers in the world. She applies wisdom teachings and embodied practice to intractable social issues at the intersections of racial, climate, and economic justice: Her voice and vision are made for these times. She has been bridging the worlds of spirit and justice since her critically acclaimed first book, Being Black: Zen and the Art of Living With Fearlessness and Grace, was hailed as "an act of love" by Pulitzer Prize winner Alice Walker, and "a classic" by Buddhist pioneer Jack Kornfield. Her new co-authored book, Radical Dharma: Talking Race, Love & Liberation, is igniting communities — Buddhist, activist and beyond -- to have the conversations necessary to become more awake and aware of what hinders liberation of self and society.
Rev. angel designed the 27 Days of Change online and 3rd Way Leadership programs to support changemakers in inner-meets-outer change worldwide. In recognition of her work, angel received one of the first Creating Enlightened Society Awards from Shambhala International's Sakyong Mipham Rinpoche, and she has been named a Senior Fellow for Faith & Justice by Auburn Seminary. angel speaks, advises, leads workshops and facilitates powerfully deep learning with communities, organizations, universities and ethically-rooted businesses. Her work has been widely covered, including in The New York Times, Boston Globe, Village Voice, and Ms. and Essence Magazines. She has been featured in two feature-length films, and profiled by CBS Religion and for Dutch broadcast television. You can find more information on her work on her website.
Both fierce and grounded, she is known for her unflinching willingness to both sit with and speak uncomfortable truths with love. angel notes: "Love and justice are not two. Without inner change, there can be no outer change. Without collective change, no change matters."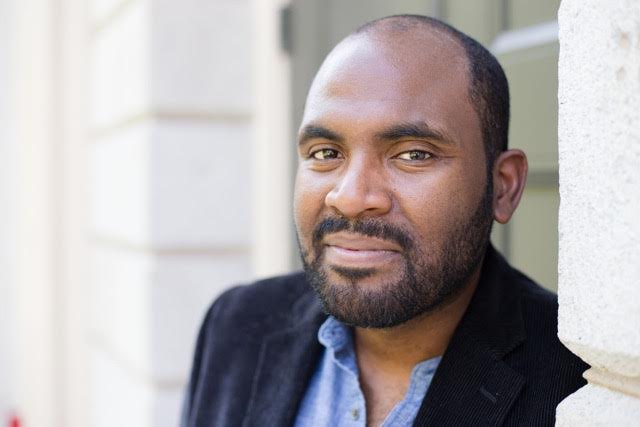 Officially recognized by the Kagyu school of Tibetan Buddhism, Lama Rod received his teaching authorization after spending over 3 years in silent group retreat at Kagyu Thubten Chöling Monastery outside of New York City. After completing retreat, Lama Rod served as the resident lama and program director for Kagyu DC (Kagyu Drupgyu Chödzong/KDC) in Washington, DC. Considered one of the leaders of the next generation of Dharma teachers, Lama Rod Owens has a blend of formal Buddhist training and life experience that gives him a unique ability to understand, relate and engage with those around him in a way that's spacious and sincere. His gentle, laid-back demeanor and willingness to bare his heart and soul makes you genuinely feel good about who you are - with all your flaws and foibles, you're lovable and deserving of happiness and joy. He invites you into the cross sections of his life as a Black, queer male, born and raised in the South, and heavily influenced by the church and its community.
Through his platform Unmasked, Lama Rod encourages conversations around things that affect us all but we're scared to talk about: sex, race, identity, gender, class, power, and depression. Lama Rod is the Guiding Teacher for the Radical Dharma Boston Collective and also teaches with the Natural Dharma Fellowship and Inward Bound Mindfulness Education (iBme). He holds a Master of Divinity degree from Harvard Divinity School where he focused on the intersection of social change, identity, and spiritual practice. He has been published and featured in several publications including Buddhadharma, Lion's Roar, Tricycle, The Harvard Divinity Bulletin, Spirit Magazine, and the book Real World Mindfulness for Beginners were he contributed the chapter on working with anger and difficult emotions. He is also heavily engaged in social change work and the co-author of Radical Dharma: Talking Race, Love, and Liberation, along with Rev. angel Kydo williams and Dr. Jasmine Syedullah. His current writing project is an exploration of intersectional masculinity and spirituality.
Greg Snyder is a dharma teacher at Brooklyn Zen Center, as well as its co-founder and current President. He is also the Senior Director of Buddhist Studies at Union Theological Seminary, where he directs and teaches in a Masters of Divinity program focused on Buddhism and Inter-religious Engagement. Greg received priest ordination and dharma transmission from Teah Strozer and is a lineage holder in the Suzuki Roshi lineage of Soto Zen. Greg is active with multiple interfaith and community networks organizing around peace-building, anti-violence and social justice initiatives, and currently sits on the Brooklyn Borough President's Advisory Council on Faith-based and Community Partnerships. Greg's practice of Zen and the dharma includes an understanding that personal and social liberation are a deeply integrated process of mutual unfolding. In addition to teaching in a formal Zen context, he facilitates Undoing Whiteness and Undoing Patriarchy workshops and ongoing groups that focus on investigating self-identities that may unconsciously perpetuate societal suffering. His efforts include ensuring the dharma is truly available to everyone, supporting young people in practice, developing a community-responsive Zen center, and advocating for bringing the illumination of conditioning around patriarchy, racism and economic exploitation to the center of our Buddhist exploration of self. He is devoted to co-creating an American dharma movement that fully embraces a deep social engagement focused on transforming inequity, bias and violence in ourselves, our communities and the world.